This Lake LBJ Visitors & Tourist Guide has tons of information on resorts with cabins and RV spaces, lake rental houses, boat rentals, fishing guides, real estate for sale, hundreds of Lake LBJ pictures, information on the towns around Lake LBJ, upcoming events on or near Lake LBJ, info and photos of the wildlife, birds and wildflowers, Winter Texan lodging and info, climate information, weather information, marinas, civic groups and churches, maps of the area, and lots of tourist information about Lake LBJ in central Texas.

Note: If you don't see a frame on the left of this web page showing 40 different categories of information that you can click on, click here to bring up the full website.
Lake LBJ, named after the 36th USA President Lyndon B. Johnson (1961-1969), is part of the Highland Lakes chain of six lakes starting in Austin and going northwest for over 85 miles. Lake LBJ starts at Kingsland and goes all of the way to Horseshoe Bay, 45 miles northwest of Austin. The Highland Lakes consist of Lake Buchanan, Inks Lake, Lake LBJ, Lake Marble Falls, Lake Travis and Lake Austin. A seventh lake, which is not considered a part of the Highland Lakes chain, is Lady Bird Lake (formerly Town Lake) in Austin.


2900 Bridge over the Llano Arm of Lake LBJ in Kingsland, Texas

Lake LBJ is one of the largest constant level lakes in the United States, and is just over 21 miles long with a maximum width of 10,800 feet. Lake LBJ is perfect for sailing, boating, waterskiing, jetskiing, and all water related activities. Lake LBJ is one of the most popular lakes in Texas.
Featured Boat Rentals
Lake LBJ Yacht Club & Marina
Whether you're looking for a jet ski, fishing boat, a boat for water skiing or tubing, or a pontoon boat that will hold 10 people, Lake LBJ Yacht Club & Marina has it all. They also have boat slip rentals, cabins, and a restaurant. Check them out!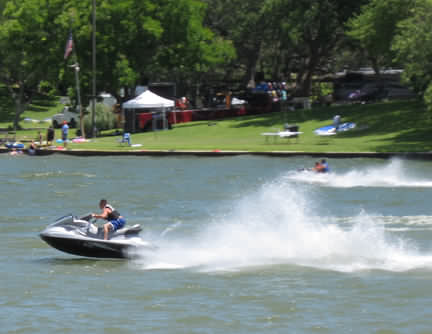 Jet-Skiing is great on Lake LBJ
Waterskiing and Jet-skiing on Lake LBJ:

Lake LBJ allows jet-skiing and waterskiing on the lake. A lot of lakes do not allow jet-skiing but it is not banned on Lake LBJ. Some of the lake house rentals have jet-ski ramps or lifts.

Boat and Jet-ski Rentals on Lake LBJ:

Lake LBJ Yacht Club and Marina has boats and jet-skis for rent near Horseshoe Bay.



Marina on Lake LBJ:

Wakepoint Marina - fuel - food - fun
Visit our one of a kind facility on the north side of Lake LBJ.






Relaxing by Lake LBJ

Tourists from all over Texas and the U.S. take advantage of this big beautiful lake. Many people in Austin, Houston, San Antonio, Dallas and west Texas own weekend lake homes on Lake LBJ. Many of these people also retire in the area around Lake LBJ.

The shores of Lake LBJ are dotted with nice homes with boat houses and automatic boat lifts. There are several communities along Lake LBJ. In Llano County you will find Kingsland, Sunrise Beach, Deer Haven, Blue Lake and Horseshoe Bay. In Burnet County you will find Highland Haven and Granite Shoals. The Burnet County and Llano County borders are down the middle of Lake LBJ with most of the tourists coming to Llano County. Llano County is on the west and south sides of the lake with Burnet County on the north and east sides of Lake LBJ. Lake LBJ is a great retirement area as well as a recreational area. This area has been rated in the top three areas of the U.S. for retirement.

Lake LBJ is a great place to rent lake rental houses, cabins, or condos near the water. All are open year round. RV Parks located on the waterfront of Lake LBJ in Kingsland, allow you to enjoy watching all of the boating activity on the lake. The sunsets and sunrises are absolutely beautiful over the lake. The lake rental homes along Lake LBJ are popular with people who want family reunions or gatherings of friends at the lake.

Community Parks on Lake LBJ:

There are several waterfront community parks for the public to use in Granite Shoals. You can fish from the parks, some have boat launches for your boat, some have picnic tables and children's swings and one has a nice playscape.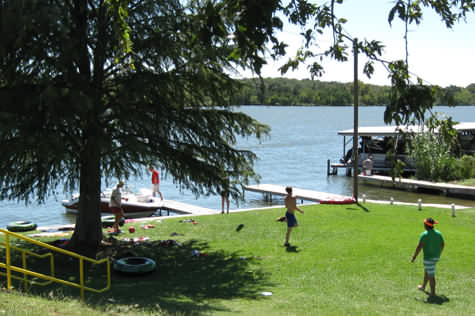 Boat Launch and Boat Docks at the Kingsland Community Park on Lake LBJ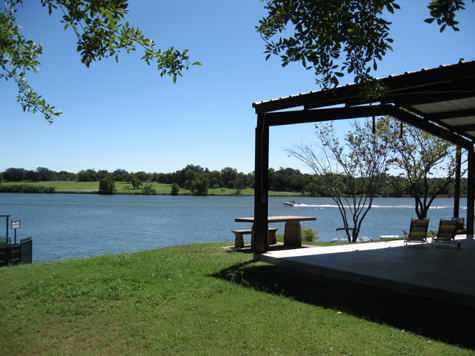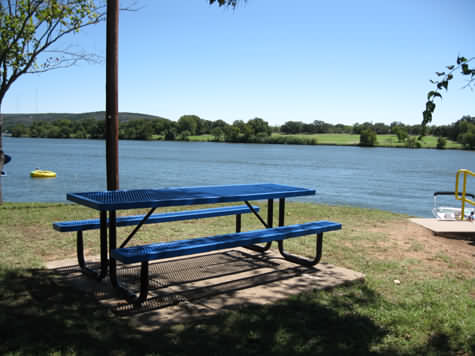 The Pavilion and Picnic Tables at the Kingsland Community Park
The waterfront Kingsland Community Park is open to the public. It has a boat launch, fishing/swimming piers where that you can tie up boats and jet skis, a covered pavilion for covered picnics and parties, picnic tables, a place to park your vehicles and boat trailers, and a community center that can be rented for events.

The park is a nice, large, shaded park that can accommodate many people. Kingsland Community Park is located at the end of Williams Street in Kingsland at the waterfront on Lake LBJ.
Dining near Lake LBJ:

Kingsland has several restaurants near Lake LBJ. In Kingsland you will find regular "home-cooked" style restaurants, Mexican restaurants, Gatti's Pizza, Light House Country Club, Sonic Drive-In, Dairy Queen, Subway, Sweet Things Bakery and Restaurant, and more.

Horseshoe Bay has Moe's Cafe, Granite Beach Grill, the Marriott Conference Center Restaurant, Pizza Mia, and a Subway. A lot of people from Horseshoe Bay drive to Marble Falls to dine, only 6 miles away, because of the number and wide variety of restaurants there.

Granite Shoals has a the "famous" Farmhouse Restaurant and a couple of other restaurants and a Mexican restaurant.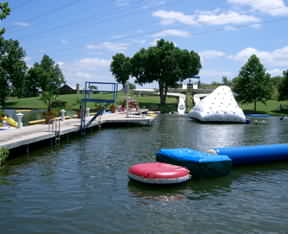 Kids love the Water Park at the
Lake LBJ Yacht Club and Marina
Wildlife and Birds at Lake LBJ:

Texas has over 4 million deer and a lot of them live in Llano County. You can see deer roaming neighborhoods of Horseshoe Bay and Oakridge Estates. Ringtails and raccoons are nocturnal but you can occassionally see them in the area. Opossums are also around during the night. Three kinds of foxes have been seen in the area. Click here for more information on the area wildlife around Lake LBJ.

Birdwatching - Several kinds of birds are native to the area and others fly through the area while migrating. Bird Watchers have counted over 105 species of birds in the area during the winter. Click here for more information about area birds around Lake LBJ.

Wildflowers near Lake LBJ:

During April and May of each year tourists come on tour busses from miles around to see the wildflowers near Lake LBJ. Usually in the middle of March the Bluebonnets start to bloom and you can see thousands of Bluebonnets along the highways, and some years there are beautiful fields of Bluebonnets. Shortly after the Bluebonnets arrive, the Texas Paintbrush, also called Indian Paintbrush, start blooming in their beautiful red-orange color. The the beautiful red and black Indian Blanket floweres start to bloom. During all of this the yellow flowers start to bloom, then white flowers start. What a sight to see! To see photos of 48 types of flowers - Click Here.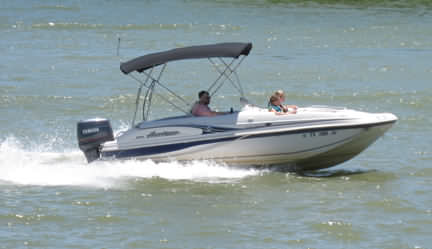 Our Story at Lake LBJ.....

I am Hal Baumbach. My wife, Carol and I moved to Lake LBJ from San Diego in 1988 and have lived at three different locations around Lake LBJ for over 27 years. We moved to the area to be near Carol's father, who was getting older, and to get away from the rat race and traffic of the big city. What a wonderful change of lifestyle it has been for us!

We have lived at our current home for over 14 years, about 150 yards from Lake LBJ in Kingsland, Texas. We have a little less than an acre with a nice woods in our back yard. We have dozens of trees and lots of shade. Deer, a fox, squirrels and raccoons occassional can be seen in the woods in our back yard. A lot of different kinds of birds come to our bird feeders.

We have had 3 boats over the past 27 years, 2 pontoon boats and a tri-hull boat. Lake LBJ is a great boating lake!

I had spent over 13 years in advertising in California and in 1996 I recognized that the Internet would be a perfect media for telling people about the Highland Lakes in Central Texas. My wife and I had been living in the area for 8 years at that time. Most of the resorts in the area were just barely surviving back then, so I started the Highland Lakes Web Page and web pages for Lake LBJ, Lake Buchanan, Inks Lake and Lake Marble Falls in August of 1996 to help out the resorts. Not many people had Internet access in 1996 but enough people saw our web pages and business greatly improved for the resorts.

We enjoy out life at Lake LBJ and plan to spend the rest of our lives here. We love the slower pace, the friendly people, and the activity around the lake.

Our son, his wife and our 3 granddaughters live in Central Texas too.

The lake is perfect weekend getaways


Click Above for 5 Day Weather Forcast

Planning on bringing your boat to the Highland Lakes? Clean, Drain and Dry your boat to prevent the spread of zebra mussels and other invasive species.

If you do not see a list of over 40 links in a frame at the left -
Click here for a lot more information about Lake LBJ.



Do you know about a Web Site that belongs on The Lake LBJ Web Page? Please email us. Thank you!