Named after the 36th USA President Lyndon B. Johnson (1961-1969), Lake LBJ is part of the Highland Lakes chain of six lakes starting in Austin and going northwest for over 85 miles. Lake LBJ starts at Kingsland and goes all of the way to Horseshoe Bay, 45 miles northwest of Austin. The Highland Lakes consist of Lake Buchanan, Inks Lake, Lake LBJ, Lake Marble Falls, Lake Travis and Lake Austin. A seventh lake, which is not considered a part of the Highland Lakes chain, is Lady Bird Lake (formerly Town Lake) in Austin.
Horseshoe Bay, TX
Whether you're looking for a jet ski, fishing boat, a boat for water skiing or tubing, or a pontoon boat that will hold 10 people, Lake LBJ Yacht Club & Marina has it all. They also have boat slip rentals, cabins, and a restaurant. Check them out!
Lake LBJ is one of the largest constant level lakes in the United States, and is just over 21 miles long with a maximum width of just under 2 miles (10,800 feet). Lake LBJ is perfect for sailing, boating, waterskiing, jetskiing, and all water related activities. People living along the lake have permanent boat docks that do not have to rise and fall with lake levels like on most other lakes. A lot of the lake rental houses have boat docks and some of the resorts have boat docks for docking your boats. There are also marinas for docking your boats.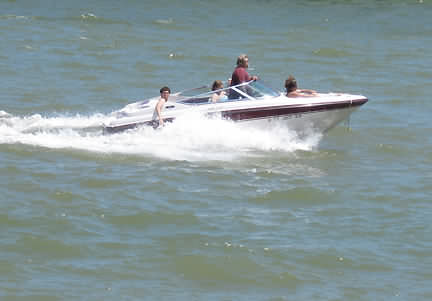 The waterfront Kingsland Community Park is open to the public. It has a boat launch, fishing/swimming piers where that you can tie up boats and jet skis, a covered pavilion for covered picnics and parties, picnic tables, a place to park your vehicles and boat trailers, and a community center that can be rented for events. The park is a nice, large, shaded park that can accommodate many people. Kingsland Community Park is located at the end of Williams Street in Kingsland at the waterfront on Lake LBJ.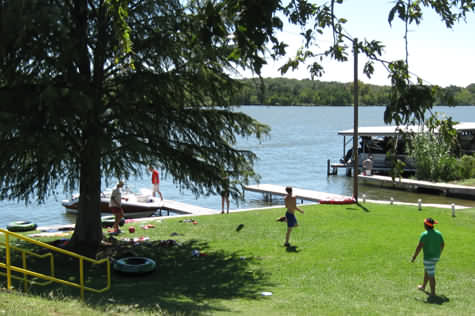 Boat Launch and Boat Docks at the Kingsland Community Park on Lake LBJ
Texas has over 4 million deer and a lot of them live in Llano County. You can see deer roaming neighborhoods of Horseshoe Bay and Oakridge Estates. Ringtails and raccoons are nocturnal but you can occassionally see them in the area. Opossums are also around during the night. Three kinds of foxes have been seen in the area. Several kinds of birds are native to the area and others fly through the area while migrating. Bird Watchers have counted over 105 species of birds in the area during the winter.
During April and May of each year tourists come on tour busses from miles around to see the wildflowers near Lake LBJ. Usually in the middle of March the Bluebonnets start to bloom and you can see thousands of Bluebonnets along the highways, and some years there are beautiful fields of Bluebonnets. Shortly after the Bluebonnets arrive, the Texas Paintbrush, also called Indian Paintbrush, start blooming in their beautiful red-orange color. The the beautiful red and black Indian Blanket floweres start to bloom. During all of this the yellow flowers start to bloom, then white flowers start. What a sight to see!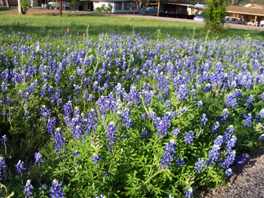 Bluebonnets (Lupinus texensis)n
There are many great wineries near Lake LBJ, and many new ones popping up everyday.The Texas Hill Country wineries (AKA Texas Wine Country or the Texas Wine Trail) are often compared to California's Napa Valley.